Meals - Nourishing your practice
About the food
As one of our personal retreatants, you'll be looked after well. Our kitchen consistently pleases the stomachs of everyone who comes to stay.
Enjoy fresh and organic produce, prepared mindfully and served to you. We serve an omnivore diet, and we can adjust for dietary needs - such as for allergies, gluten free, and vegetarian requests.
If you have dietary requests that may require extra levels of care and attention, please make this clear in your booking, or fill in an inquiry form to ensure we can accommodate you.
For more general information about staying with us, see this page
Accommodation - Private cabins
Private Cabins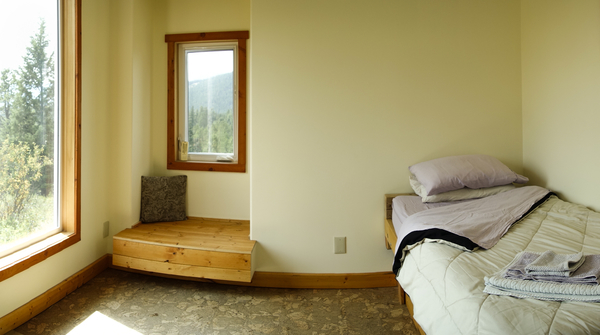 Our new cabins Arrakis, Lyra, and Vega overlook a valley of pines and grasslands and offer stunning views to nourish the work of meditators in retreat. We designed them to provide solitude and spacious beauty in a prime location on the property.
Explore the varied geography of the property using our trails and outdoor meditation platforms, or retreat close to your accommodation.
PLEASE NOTE: Our back to nature cabins are designed to minimize the opportunities for distraction, and do not have electricity or plumbing. They are heated by small wood-powered furnaces and lit by battery-powered lanterns, which we provide.  You will have access to electricity, full washroom and laundry facilities at the Sanctuary where your meals are also served, just a few minutes walk from your cabin.
For more information about staying with us, see this page.
The prices shown below are for the minimum two-night stay. They include single accommodation in a cabin, meals served to you, and all taxes. 
Additional nights are CAD $140 for Practice and Integrate, and CAD $161 for Just Practice.
Are your personal retreats suitable for beginners?
Not currently. We specialize in providing retreat space for people who have, or are trying to re-establish a regular meditation practice. As a guideline, we ask that you are used to sitting for 30 minutes or longer for several periods a day - and this is a guideline, not meant to eliminate someone who is ready for a retreats. Also, please read the section on the main page entitled "What if I'm new to meditating"
Where is Clear Sky located?
We're in the East Kootenays B.C., Canada, an hour from the US border and four hours from Calgary by car. The nearest town is Cranbrook, and we are 40 minutes from the Canadian Rockies International Airport. Click here to see a map of our location.
What does the "mentoring" for Practice and Integrate look like?
Mentoring is when an experienced meditator meets with you on a set schedule each day, and may include:
- guidance on techniques and tools
- information on wisdom traditions and teachings
- direction to books from the Clear Sky library
- questions and answers
The mentor
- provides a supportive container to you in your practice, as someone with years of experience who has been there too
- is a practicing awakening being (a practicing meditator)
- is trainer and teacher of buddhadharma, wisdom traditions, Clear Sky's five principles, conscious living, shadow work, and Karma Yoga
The mentoring is given freely by a Clear Sky resident or senior student, and follows the practice of dana which may be paid on registration or when onsite.
What are some common Karma Yoga tasks that I'll be asked to do during my retreat?
"Before enlightenment; chop wood, carry water. After enlightenment; chop wood, carry water."
- Zen proverb
There's really nowhere to get to. In formal meditation, we're paying close attention to what's going on, right now - we're not trying to get somewhere. We're not trying to teach a goal.
Doing Karma Yoga is a great way to learn this lesson, in action, with simple mindfulness to what we're doing and nothing more.
Your mindful Karma Yoga may include
General maintenance on the property (for example, chopping firewood or shoveling snow in the fall and winter)
Gardening, weeding, and harvesting in our garden or food forest (spring & summer)
Cleaning of cabins and common areas
Administrative tasks (for example, filing, or laminating documents)
Do you have more information about getting to and staying at Clear Sky?
Yes, see this page.